How to Make Tasty Peanut Butter Cheesecake
Peanut Butter Cheesecake.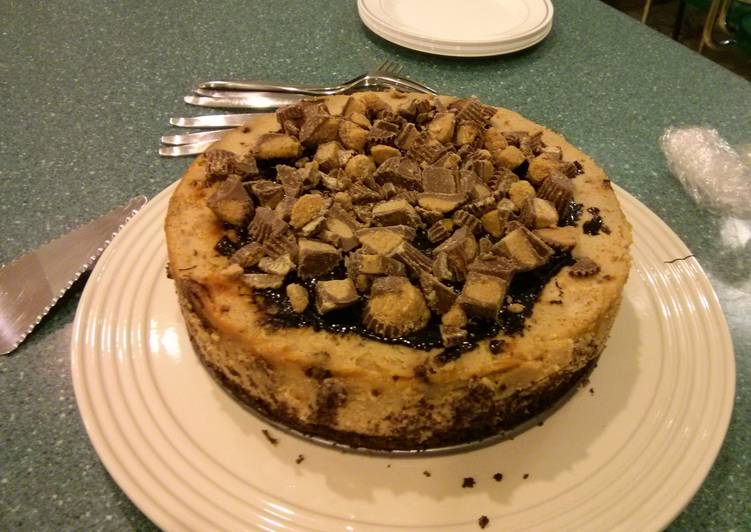 You can cook Peanut Butter Cheesecake using 8 ingredients and 16 steps. Here is how you achieve it.
Ingredients of Peanut Butter Cheesecake
You need 1 1/4 cup of chocolate graham cracker crumbs.
You need 1/4 cup of butter, melted.
You need 8 oz of 5 packages ( each) cream cheese, softened.
Prepare 1 1/2 cup of white sugar.
It's 3/4 cup of creamy peanut butter.
Prepare 2 tsp of vanilla extract.
You need 3 of eggs, lightly beaten.
You need 1 of 10 Reese's Peanut Butter Cups (chopped).
Peanut Butter Cheesecake instructions
Preheat oven to 350°..
Mix together graham cracker crumbs and 1/4 cup melted butter..
Press mixture into the bottom of a 9 1/2-inch springform pan..
Bake 10 minutes; remove from oven and set aside..
Keep the oven on..
In a large bowl, beat cream cheese and sugar until smooth..
Add peanut butter and vanilla; mix well..
Add eggs; beat on low just until combined..
Stir in chopped Peanut Butter Cups..
Pour over the crust..
Bake at 350° for 50-55 minutes or until center is almost set..
Turn off oven, and leave oven door open. Leave cheesecake to rest for 45 minutes..
Cool on a wire rack for 10 minutes..
Carefully run a knife around the edge of the pan to loosen; cool 1 hour longer..
Refrigerate overnight..
Remove sides of pan..