Recipe: Delicious Chocolate Mousse Cake with Cherries
Chocolate Mousse Cake with Cherries. Soak the sponge cake with extra liqueur if desired. Top with the second cake layer and repeat the process for the third layer, too. Whisk in chocolate hazelnut spread until combined and remove from heat.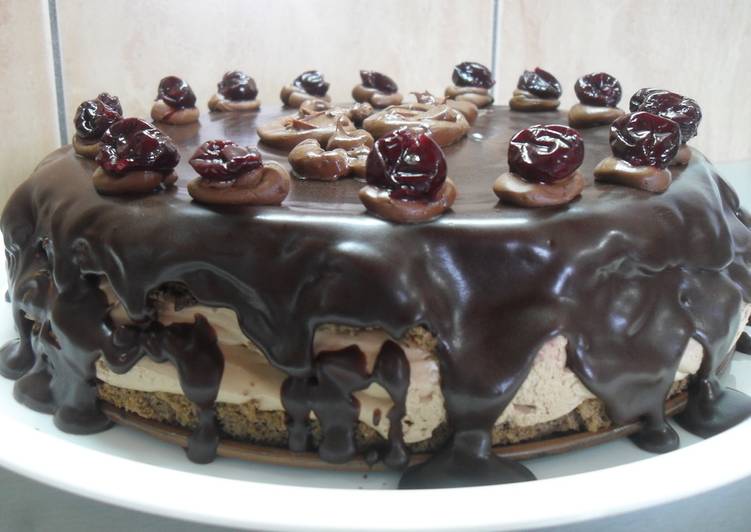 Pop onto a large platter or cake stand and warm the edge to remove the metal ring. In a saucepan, you'll have to simmer the cherries and sugar until they start to dissolve. Add the lemon juice and water. You can have Chocolate Mousse Cake with Cherries using 11 ingredients and 4 steps. Here is how you achieve it.
Ingredients of Chocolate Mousse Cake with Cherries
You need 5 eggs,.
Prepare 5 tbsps of sugar.
You need 4 tbsps of flour.
You need 2 tbsps of cocoa powder.
It's 2 tsp of baking powder.
You need 2 cups of whipping cream.
You need 250 g of chocolate.
It's 4 of egg yolks.
Prepare 70 g of sugar.
It's of cherries.
Prepare chocolate icing.
While this is happening, bloom the leaf gelatin in a bowl of cold water. Once the cherries have begun to "melt" add the gelatin and stir everything up. Prick the cake all over, drizzle over the juice from ½ of one of the cherry jars then cover evenly with the cherries, reserving a few for the top. Melt the chocolate in a heatproof bowl over a pan of gently simmering water, set aside to cool.
Chocolate Mousse Cake with Cherries instructions
Bake the cake out of the first 5 ingredients and cut it in two.
Mix the whipping base, egg yolks, sugar, melted chocolate, and cherries together and cream it between two layers of the cake.
Make the chocolate icing and glaze it on the cake.
Decorate it with cherries.
Fold maraschino cherries into white chocolate mousse, leaving a few to sprinkle on top of the cake. Spread evenly over the chocolate mousse layer. See step-by-step pictures and tips for the first two layers can be found on my original Chocolate Raspberry Mousse Cake post, here. Summary: A dark, rich chocolate cake layered with deep balsamic fresh cherries and satiny smooth dark chocolate mousse. A chocolate celebration dressed up in a lace chocolate collar, more cherries, dark chocolate flakes, and slivered pistachios.