Easiest Way to Prepare Perfect Pumpkin Caramel Cream Cheese Poke cake
Pumpkin Caramel Cream Cheese Poke cake.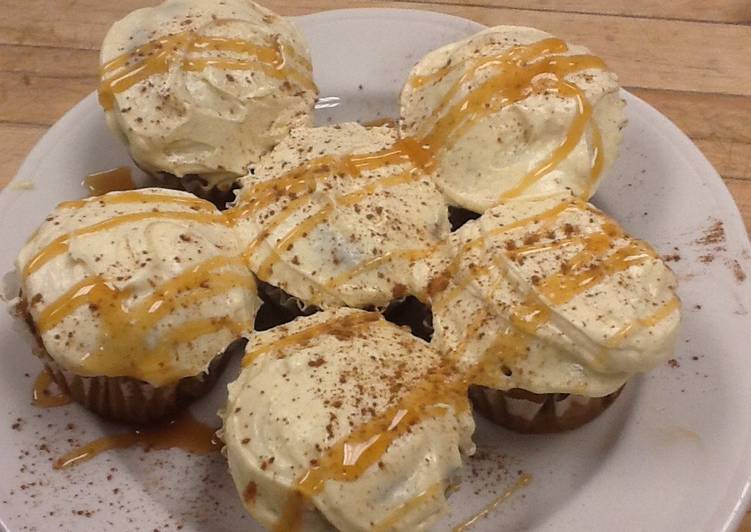 You can have Pumpkin Caramel Cream Cheese Poke cake using 10 ingredients and 5 steps. Here is how you cook that.
Ingredients of Pumpkin Caramel Cream Cheese Poke cake
Prepare 1 box of spice cake mix.
Prepare 1 cup of canned pumpkin puree.
It's 1 cup of water.
Prepare 3 of eggs.
You need 1/2 cup of vegetable oil.
Prepare 3/4 cup of Carmel ice cream topping.
It's 1 pkg of cream cheese at room temp.
You need 2 tbsp of milk.
You need 1 cup of powdered sugar.
You need 1 1/2 cup of whipped topping.
Pumpkin Caramel Cream Cheese Poke cake step by step
Pre heat oven to 350 degrees. We used 24 cupcake liners during class so each student could easily sample the recipe after class. This recipe can be poured into 9"x 13" greased cake pan..
With a hand or stand mixer, mix together the cake mix, pumpkin, water, eggs and oil....stopping to scrape down the sides of the bowl. Mix until smooth..
Spoon into cupcake liners or pour into a cake pan. Bake at 350 until a tooth pick inserted into the cake comes out clean. (approx 20 min cupcakes / 35 min cake pan).
As soon as the cake is out of the oven, while it is still hot, poke holes into the cake with the end of a wooden spoon. Spoon half the caramel sauce over the holes in each cupcake or pour half the sauce over the holes in the top of the cake..
While the cake cools, prepare the cream cheese frosting. Cream together the cream cheese, powered sugar and milk until smooth. Add the whipped topping and fold into the cream cheese mixture. Spread the frosting over the cooled cake. Drizzle the remaining caramel sauce over the frosted cake. Refrigerate leftovers.....if there are any!!!.