Easiest Way to Cook Delicious Mango Mousse Cake
Mango Mousse Cake.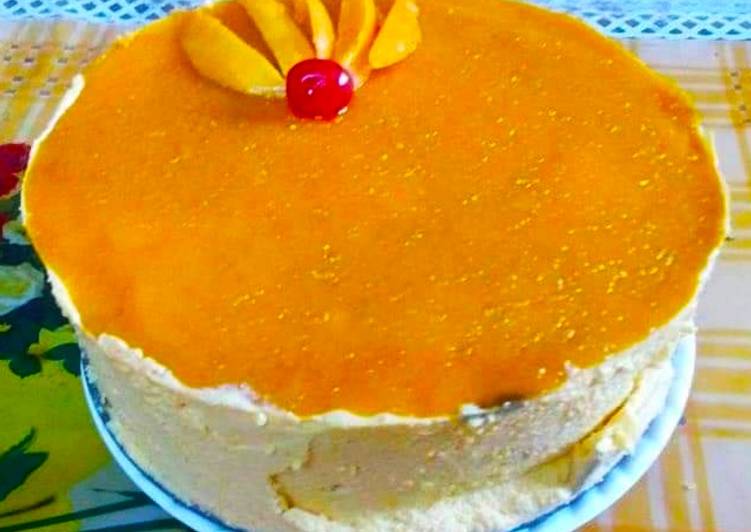 You can cook Mango Mousse Cake using 22 ingredients and 20 steps. Here is how you cook that.
Ingredients of Mango Mousse Cake
It's of This is a 3 step recipe.
It's 1 of . Mango cake.
It's 1 - 1/2 cup of Flour.
Prepare 1 tsp of Baking powder.
Prepare 1 cup of Butter.
Prepare 1/2 cup of Mango purée (for it take the pulp of 4/5 ripe mangos in a blender and blend it till smooth and sieve it).
Prepare 1 cup of Cow milk.
It's 3/4 cup of Sugar (powdered).
It's 2 of Egg.
You need 1 /4 tsp of Salt.
It's 1/2 tsp of Mango essence (optional).
You need 2 of . For mango mousse.
It's 1 - 1/2 cup of Mango pulp.
Prepare 1- 1/4 cup + 2 tbsp of Whipping cream.
You need 1/4 cup of Powdered sugar.
Prepare 2 tbs of Gelatin powder.
It's 1/4 cup of Hot water.
It's 3 of . Mango jelly glaze.
You need 1/2 cup of Mango pulp.
You need 1 tbs of Powdered sugar.
It's 1/2 tbs of Gelatin powder.
You need 1/8 cup of Hot water.
Mango Mousse Cake step by step
Sieve flour baking powder salt.
Take butter sugar essence in a bowl beat with a blender.
Add eggs and beat again.
Add mango purée and beat.
Add flour and milk alternately and beat.
Pour the mixture in a greased springform mould.
Bake in a preheated oven at 180°C for 30-40 mins.
For mango mousse add whipping cream and sugar in a bowl and beat to form soft peak.
Keep in fridge for 10 mins.
Take gelatin powder and hot water (1/4 cup) in a bowl and mix it.
Add 1 1/2 mango pulp in the gelatin mixture and mix well, add whipping cream to it and mix well to make a mousse.
Slice the cake into two halves.
Place one half in the springform pan, brush some mango drink over it, pour some mousse over it (1/2 th portion) level with a spatula.
Keep in the fridge for 15-20 mins.
Then place the other half on it and pour the rest of the mousse, level with a spatula, keep in the fridge for 30 mins.
For mango jelly glaze take gelatin and hot water in a bowl and mix well.
Add mango pulp to it, mix well.
Pour this mixture very cautiously on the mousse cake. It will spread out slowly by itself. Don't use any spatula / spoon..
Keep it in the fridge for 5 hrs. Then take out, slowly loosen the sides using a thin knife..
Garnish with ripe mango slices. Serve it chilled..