Recipe: Delicious Banana Bread
Banana Bread.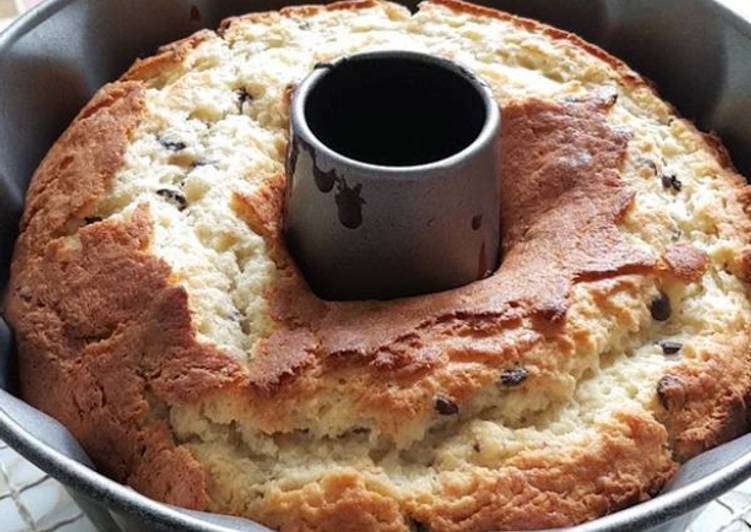 You can cook Banana Bread using 11 ingredients and 8 steps. Here is how you cook that.
Ingredients of Banana Bread
You need 220 g of softened butter.
You need 300 g of sugar.
It's 1 packet of vanilla sugar.
It's 2 of eggs.
It's 4 of very(!) ripe bananas, mashed with a fork.
It's 375 g of flour.
It's 2 teaspoons of bicarbonate of soda.
It's 1 pinch of salt.
Prepare 250 ml of Greek yogurt.
You need 100 g of chocolate chips or coarsely chopped, bake-proof chocolate.
You need 1 of Bundt- or Gugelhupf cake tin.
Banana Bread step by step
Preheat the oven to 180°C (upper and lower heat). Grease the cake tin..
Mix the butter with the sugar and vanilla sugar using a hand mixer, until light and creamy. Mix until the sugar has dissolved, which takes about 5-7 min..
Stir in one egg after the other. Mix until you get a smooth mixture..
Add the mashed bananas. Don't worry if the batter looks a little lumpy or strange, this is what it's supposed to look like!.
Sieve the flour, bicarbonate of soda and salt into a bowl. Mix well..
Add half of the flour mixture and all of the Greek yogurt to the batter. Mix. Lastly add the rest of the flour and the chocolate chips/chunks. Don't overwork the batter by mixing too much..
Pour the batter into the greased cake tin. Bake for 60-70 minutes. Check the cake after 30 minutes; if the cake is browning too quickly, loosely place a sheet of aluminum foil on top of the cake. This will prevent the top of the cake to get too dark. Remove the foil towards the end of the baking time..
Let the cake cool off completely in the cake tin. Then turn out the cake onto a cake platter..