Recipe: Tasty Koulourakia with wholemeal flour and raisins
Koulourakia with wholemeal flour and raisins. Add the flour, a little bit at a time, whilst mixing, until the ingredients are combined and the dough is soft and not too sticky. Cover the dough for the koulourakia i made the other day and im not greek…i accidently used wholemeal plain flour and used baking powder they taste good but are a little dence. Koulourakia are a traditional Greek dessert, typically made around Easter to be eaten after Holy Saturday.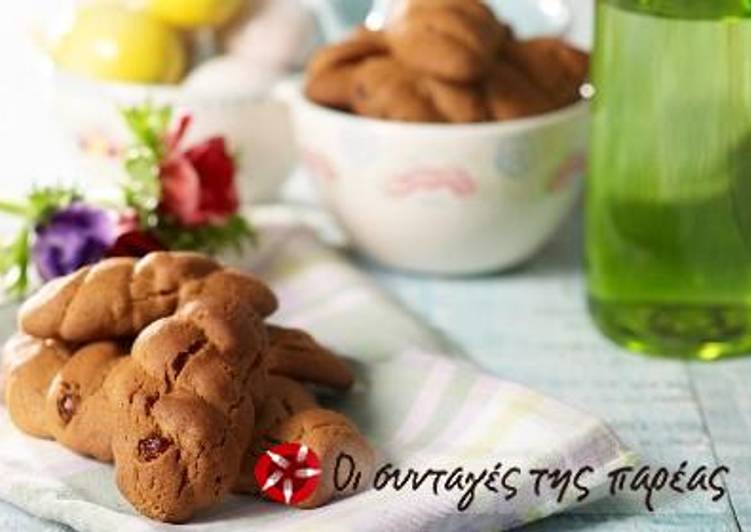 Koulourakia are a crispy, orange-scented Greek Easter Cookies that are the perfect treat with coffee or hot chocolate. In large bowl of an electric mixer. Add the flour mixture in a few batches while the mixer is beating all of the ingredients on a low speed. You can cook Koulourakia with wholemeal flour and raisins using 13 ingredients and 7 steps. Here is how you cook it.
Ingredients of Koulourakia with wholemeal flour and raisins
It's 300 g of Flora Buttery spread at room temperature.
It's 200 g of sugar.
Prepare 50 g of honey.
You need 1/2 tsp of vanilla.
Prepare 2 of large eggs.
Prepare 10 g of baking soda.
You need 50 g of yogurt.
Prepare 40 g of tsipouro (traditional Greek pomace brandy).
Prepare 80 g of raisins.
Prepare 400 g of flour.
Prepare 450 g of wholemeal flour For brushing.
Prepare of For brushing.
Prepare 1 of egg, beaten.
Koulourakia with Epsima - Tertzelouthkia is a traditional Cypriot dessert made of dough which is boiled in water and then in honey, or carob syrup or epsima (brown liquid used on different sweets , made of grape juice). Koulourakia with Epsima - Tertzelouthkia can be enjoyed both hot and cold. Share: Rate this Recipe Sift together flour and baking powder, and add to butter and egg mixture along with orange juice and vanilla. Knead until dough is smooth, adding a bit more flour if necessary.
Koulourakia with wholemeal flour and raisins step by step
Use a stand mixer to cream the Flora buttery spread together with the sugar..
In the meantime, place the eggs, the honey, the vanilla, the yogurt and the tsipouro in a large bowl, whisk well to combine and then add this mixture to the one of the stand mixer..
Add the flours little by little folding them into the batter by hand and then add the raisins. When everything is incorporated, cover the bowl and place it in the fridge for 1 hour..
Preheat the oven to 180°C. Line a sheet pan with greaseproof paper..
Form the koulourakia in the shapes that you like and spread them out in the sheet pan..
Brush each one with the beaten egg and bake for about 20 minutes..
Remove them from the baking sheet and when they cool, store them in an airtight container..
With a simple base of flour, butter, sugar and eggs, Koulourakia are Greek Easter cookies that come in a heap of different shapes and subtle flavours. Lemon and orange flavours are more authentic, and others are a little non-traditional like the version we're sharing today that includes one of our favourite. Pauline's Greek Koulourakia with a Twist. These easily recognizable traditional Greek Cookies, aka Koulourakia, are often associated with Greek Easter. Beat the sugar together with the oil well.