Easiest Way to Prepare Perfect Gluten-free Granola Bars
Gluten-free Granola Bars. These Nut-free Granola Bars are vegan, gluten-free, and oil-free! These are loaded with delicious spices, have chewy and soft and crispy edges. I incorporated these chewy gluten-free granola bars into an allergy-friendly lunchbox.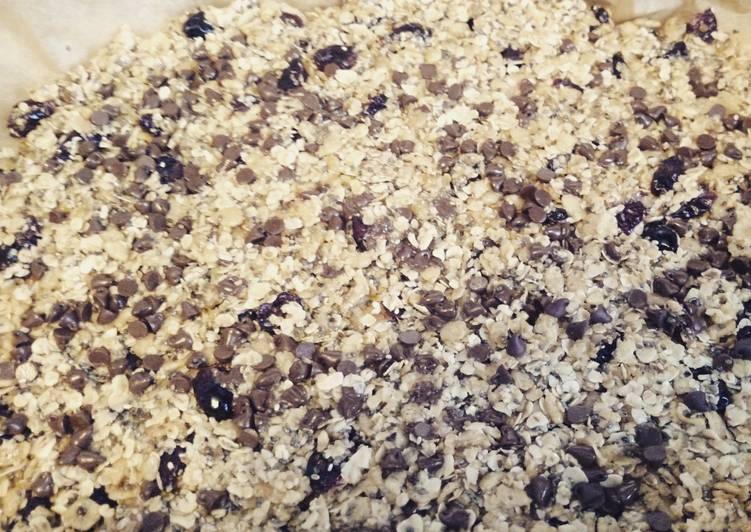 These crunchy granola bars began with the ingredient list for Nature Valley Oats 'n' Honey crunchy granola bars. And other than puffed rice cereal, I found something really. Chewy Gluten-Free Granola Bars. [Photographs: Elizabeth Barbone]. You can cook Gluten-free Granola Bars using 10 ingredients and 7 steps. Here is how you achieve it.
Ingredients of Gluten-free Granola Bars
Prepare 1/2 cup of coconut oil.
Prepare 1/3 cup of brown sugar.
It's 1/4 cup of pure maple syrup.
It's 1 tsp of vanilla extract.
Prepare 2 cup of gluten-free quick oats.
It's 1 1/3 cup of rice krispies cereal (gluten-free).
Prepare dash of sea salt.
Prepare 1 cup of dried cranberries.
Prepare 1/4 cup of chia/hemp/flax seeds.
Prepare of mini chocolate chips.
Inspired by classic Quaker Chewy Granola Bars, this gluten-free version made with marshmallows, almonds, and chocolate chips nails the textbook chewy texture and delicious, candy bar-like flavor. Do you guys prefer chewy or crunchy granola bars? I'm fully on team chewy, which is probably why I really love these bars; they have an awesome chewy texture and aren't too sweet, but they have a lot of great flavor. Gluten Free Dairy Free Energy Bars Recipes.
Gluten-free Granola Bars step by step
Line an 8x8 baking pan with foil and grease lightly..
In a large pot, add coconut oil, brown sugar, honey, and vanilla extract..
Once completely blended, turn heat to medium-high and bring mixture to a boil for just a minute..
Remove from heat and mix remaining ingredients, except chocolate chips..
Press mixture firmly into pan, add chocolate chips, and press again..
Refrigerate for 2 hours, then remove and cut to size of your choosing..
Store in airtight container for up to one week..
These are easy, 'no bake' and gluten-free Granola Bars, great for kids and adults! They're chewy, chocolatey and a healthy balance of grains. These easy granola bars are made with apples and oats and make a delicious gluten-free snack. For more gluten-free recipes head to Tesco Real Food. Granola bars satisfy a sweet chewy or crunchy snack craving and quell snacktime hunger.